Writing Should be the Easiest Part of the TOEFL.®
Many students take the TOEFL again and again to get the writing score they need. This makes me sad because writing should be the easiest part of the test. Students just need proper feedback and guidance to overcome this problem.
Don't Worry. I Can Help You.
Sign up for my essay evaluation service for:
Line-by-line corrections of your practice essays.
Accurate score estimates.
Personalized advice on how to get a higher score.
Complete templates for both essays.
Feedback within 48 hours.
No expiration dates – send your essays any time.
Click the "learn more" links below for more information or scroll down a bit to read about my qualifications. Note that I also offer speaking evaluations and proofreading services for university applications.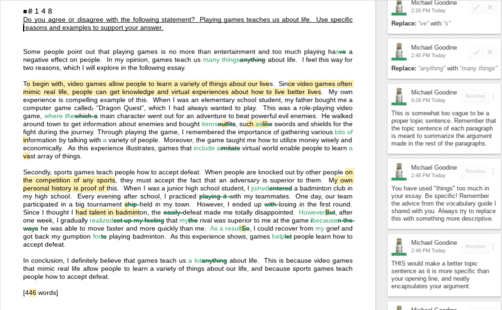 "Thanks for your for your amazing feedback, Michael! I'm happy to let you know that I scored 113 (28 in writing). Yes, I got the required scores for a pharmacy license!"
– M.S.
Who Will Check Your Essay?
Me! My name is Michael Goodine, and I am the founder of TOEFL Resources. I personally check every essay. Here's some information about me:
I've been helping students prepare for the TOEFL for about a decade, and in that time I have read more than twenty-five thousand TOEFL essays from students. I know what works, and I know what doesn't work. My students have entered Ivy League business schools, have qualified for pharmacy and dental licenses, and have gained admission to undergraduate programs all over the world. I work with all kinds of people!
I hold a degree in English Literature from beautiful Dalhousie University in Canada.
I have received TOEFL teacher training from ETS, the creators of the TOEFL. I update this trainingevery year. You can see my ETS certificates from April 2019, December 2019, November 2020, January 2021, and

June 2022

.
I am obsessed with TOEFL writing, and have written several research articles about how the test is scored. Check out my detailed study of the e-rater software and an update from 2020.
I worked as a researcher and textbook writer (TOEFL & TOEIC) for Hackers Education Group, one of the largest publishers of TOEFL books in Asia.
My YouTube Channel, Test Resources, has more than 73,000 subscribers.
I like to think I'm an expert when it comes to the TOEFL writing section. I want to use that expertise to help you reach your goals.
What are People Saying about the Service?
August 2022
Michael provides the right advice right away. His resources, templates, and detailed instructions helped me to write a nice essay within the time limit. I got a 28 in writing and 113 in total which is the best score I've gotten so far. Thanks so much Michael for your help!

-H, Korea
I have good news! My last TOEFL writing score was 26. That's my best score so far!

-H.K, Japan
Great news! I just passed the test and got 25 in writing! I like how you quickly identified the key problem in my writing which was hurting my score the most. Once I became aware and careful about that, I saw the results.

-A.A.
Thanks to your support, I achieved 104 (R:29, L:29, S:22, W:24) points on the TOEFL. Thank you for your advice on my practice essays!

-S.M., Japan
I just wanted to let you know that my writing score increased from 21 to 25 with your help. Although I couldn't get your speaking evaluation, I watched all videos and helped me a lot. My speaking went from 20 to 24. Thank you very much!! I am very grateful for all your help.

-R.P
I got 28 points in the writing section. My total score was 109 (28/30/23/28). My score dramatically improved thanks to Michael's essay evaluations. I am convinced that following Michael's strategy is the best way to improve your TOEFL score.

-K.C
September 2022
I am honored to announce that I received my dream score on the TOEFL. I got 119 on the test (29 on the speaking section). I would like to thank you for the tips you have provided on your channel. I used your template for both tasks of the writing section and scored 30 out of 30. Moreover, your collection of sample essays was a valuable resource to improve my essays and arguments. Initially, I could barely write 300 words for the independent task of the writing part, but thanks to your sample essays, I was able to write 440 words on the test day (310 words for the dependent task).

-A.I., Iran
On September 10 I took my test and I got my required score for the NABP. Thanks a lot for your help. Finally this nightmare is over. Once again, thank you.

-A.K, Pharmacist
I would like to let you know that I got 104(W30,L28,S22,W24)on Sep 16, so I achieved my goal! I genuinely appreciate your help. My writing skills improved thanks to your dedication, which has been useful for not only TOEFL but also for my daily work.

-Y.S, Japan
I just wanted to update you on my S and W scores: 30 and 28! I also got 117 total 🙂 Thank you so much for your help with writing. Thanks to you, I was able to get back on track with my writing score!

-C.K, Korea
I am writing this email to thank you for your helpful materials. Thanks to your essay evaluation, sample essays, templates, and grammar tips, I was able to increase my TOEFL writing score from 20 to 28 in a month!

-Y.K, Korea
Note that TOEFL is a registered trademark of ETS. This service is not endorsed or approved by ETS.