Writing Should be the Easiest Part of the TOEFL.®
Many students take the TOEFL again and again to get the writing score they need. This makes me sad because writing should be the easiest part of the test. Students just need proper feedback and guidance to overcome this problem.
Don't Worry. I Can Help You.
Sign up for my essay evaluation service for:
Line-by-line corrections of your practice essays.
Accurate score estimates.
Personalized advice on how to get a higher score.
Complete templates for both essays.
Feedback within 48 hours.
No expiration dates – send your essays any time.
Click the "learn more" links below for more information or scroll down a bit to read about my qualifications. Note that I also offer speaking evaluations and proofreading services for university applications.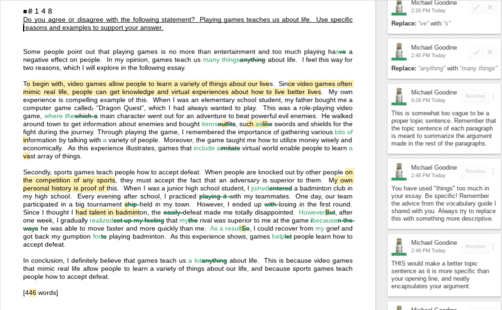 "Thanks for your for your amazing feedback, Michael! I'm happy to let you know that I scored 113 (28 in writing). Yes, I got the required scores for a pharmacy license!"
– M.S.
Who Will Check Your Essay?
Me! My name is Michael Goodine, and I am the founder of TOEFL Resources. I personally check every essay. Here's some information about me:
I've been helping students prepare for the TOEFL for about a decade, and in that time I have read more than twenty-five thousand TOEFL essays from students. I know what works, and I know what doesn't work. My students have entered Ivy League business schools, have qualified for pharmacy and dental licenses, and have gained admission to undergraduate programs all over the world. I work with all kinds of people!
I hold a degree in English Literature from beautiful Dalhousie University in Canada.
I have received TOEFL teacher training from ETS, the creators of the TOEFL. I update this training every year. You can see my ETS certificates from April 2019, December 2019, November 2020, and January 2021.
I am obsessed with TOEFL writing, and have written several research articles about how the test is scored. Check out my detailed study of the e-rater software and an update from 2020.
I worked as a researcher and textbook writer (TOEFL & TOEIC) for Hackers Education Group, one of the largest publishers of TOEFL books in Asia.
My YouTube Channel, Test Resources, has more than 73,000 subscribers.
I like to think I'm an expert when it comes to the TOEFL writing section. I want to use that expertise to help you reach your goals.
What are People Saying about the Service?
May, 2022:
I just wanted to tell you that I passed my TOEFL! Finally the nightmare is over! Thank you very much for you support and help. It means a lot to me.

-H.H.
I want to thank you because I scored 24 in writing. I have been following you for writing for long time and only because of your method did this become possible. Not only in TOEFL but in general also I have improved my writing a lot. You are the best teacher.

-N.P
Writing 28! It's incredible. This would not have been possible without your guidance. I hardly had any time to prepare, but thanks to your tips I managed! I scored far beyond what was required!

-J.G
Let me tell you some good news! I got my highest score, 102 (R29, L26, S21, W26), yesterday! I highly appreciate all your support.

-Y.S, Japan
I just want to say thank you for your advice. I got 25 points in the writing section. My score was just 15 points last year!

-T.Y., Japan
June, 2022:
You really helped me a lot! Before contacting you, I felt desperate and did not know what to do. At that time, I kept getting similar speaking and writing scores. Your YouTube videos, website, and most of all your evaluations helped me to understand the test and practice effectively. Your teaching was much more helpful than local schools. Thanks to you, I was able to get 25 in speaking, 30 in writing, and 114 in total. I really appreciate your help! I strongly recommend your lessons to other lawyers these days.

-J.P, Korea
I got 28 in writing and 99 in total (28 21 22 28). In the test, I wrote 280+ and 390+ words for each essays and saved 2-3 minutes for double-checking as you suggested. Your website, YouTube videos and evaluation service really helped me a lot.

-Y.Y
Note that TOEFL is a registered trademark of ETS. This service is not endorsed or approved by ETS.