SerWriting Should be the Easiest Part of the TOEFL.®
Many students take the TOEFL again and again to get the writing score they need. This makes me sad because writing should be the easiest part of the test. Students just need proper feedback and guidance to overcome this problem.
Don't Worry. I Can Help You.
Sign up for my essay evaluation service for:
Line-by-line corrections of your practice essays.
Accurate score estimates.
Personalized advice on how to get a higher score.
Complete templates for both essays.
Feedback within 48 hours.
No expiration dates – send your essays any time.
Submit independent and/or integrated essays
New: you can also submit "academic discussion" answers!
Click the "learn more" links below for more information or scroll down a bit to read about my qualifications. Note that I also offer speaking evaluations and proofreading services for university applications.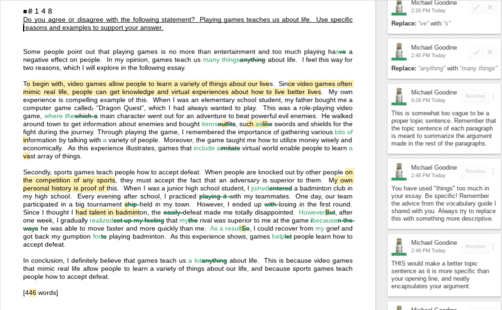 "Thanks for your for your amazing feedback, Michael! I'm happy to let you know that I scored 113 (28 in writing). Yes, I got the required scores for a pharmacy license!"
– M.S.
Who Will Check Your Essay?
Me! My name is Michael Goodine, and I am the founder of TOEFL Resources. I personally check every essay. Here's some information about me:
I've been helping students prepare for the TOEFL for about a decade, and in that time I have read more than twenty-five thousand TOEFL essays from students. I know what works, and I know what doesn't work. My students have entered Ivy League business schools, have qualified for pharmacy and dental licenses, and have gained admission to undergraduate programs all over the world. I work with all kinds of people!
I hold a degree in English Literature from beautiful Dalhousie University in Canada.
I have received TOEFL teacher training from ETS, the creators of the TOEFL. I update this trainingevery year. You can see my ETS certificates from April 2019, December 2019, November 2020, January 2021, and

June 2022

.
I am obsessed with TOEFL writing, and have written several research articles about how the test is scored. Check out my detailed study of the e-rater software and an update from 2020.
I worked as a researcher and textbook writer (TOEFL & TOEIC) for Hackers Education Group, one of the largest publishers of TOEFL books in Asia.
My YouTube Channel, Test Resources, has more than 73,000 subscribers.
I like to think I'm an expert when it comes to the TOEFL writing section. I want to use that expertise to help you reach your goals.
What are People Saying about the Service?
October 2022
I just wanted to say thank you! I managed to achieve a 28 in writing, and I am really happy about this score. And you helped me a lot!

-M.M, Germany
I just wanted to show my appreciation and sincere gratitude for your resources and high-quality material to prepare for the TOEFL test. They have been absolutely brilliant for my study sessions and have made me feel much more confident about the test.

-C.L, Chile
I got 97 points (Reading 28, Listening 22, Speaking 22, Writing 25) when I took TOEFL iBT in September. Thank you for guiding me. Without your help, I couldn't have achieved this.

-H.U, Japan
November 2022
My score is now 96 (writing is 23). Thank you very much for your professional comments. My first writing score was 18, so it is quite an increase, and I got this score thanks to your advice.

-Y.U, Japan
I completed my TOEFL test last month and got a 26 in the writing section. The suggestions you gave were really helpful. I am glad that I found your website before I take the test!

-S.C, Taiwan
I just wanna thank you for your essay templates and evaluation. I finally passed my TOEFL and scored 28 in writing. Before that I that my first writing score was 18.

-G.M, USA
Note that TOEFL is a registered trademark of ETS. This service is not endorsed or approved by ETS.